Denim Day Paint Night Registration
When: April 6, 2022 – Time 6 pm
Where: Dude's Clubhouse 7072 Lee Rd. Hartford
Event Details:  
Every year, on the first Wednesday in April we hold Denim Day Paint Night.  We want to help educate our community about sexual assault. Join us for a fun night of Denim Painting at Dude's Clubhouse in Hartford, WI on April 6th with Artist Kaylee Goodman. This event is appropriate for all ages and will be presented by The Medical Center Foundation of Hartford, a non-profit that serves Washington County.    
Annual Dinner Registration
When
: April 13, 2022
Time: 5 PM Social Hour 6 PM Dinner
Where
: Dude's Clubhouse 7072 Lee Rd. Hartford
Event
Details
: 
Cost: $35/person, $70/couple
Contact: Sarah Grotelueschen at give@mcfhartford.org or 262-670-7568
Theme: As with wine, life gets better with age
Guest Speaker: Tamara Warnecke 
Algiers Goldbug Golf Classic Registration
When: July 12,  2022
Registration 10 AM, Lunch 11 AM, Golfers start at NOON.
Where: Hartford Golf Club – 7072 Lee Rd., Hartford, WI 53027
Individual Player Package $110 before June 1st, $120 after June 1st
Includes:
Golf, lunch, cart, tee package, gifts
One ticket to the Algiers Goldbug Buffet Dinner
Awards, prizes, contests
Algiers Goldbug Dinner Buffet Ticket $25
Includes:
One ticket to the Algiers Goldbug Buffet Dinner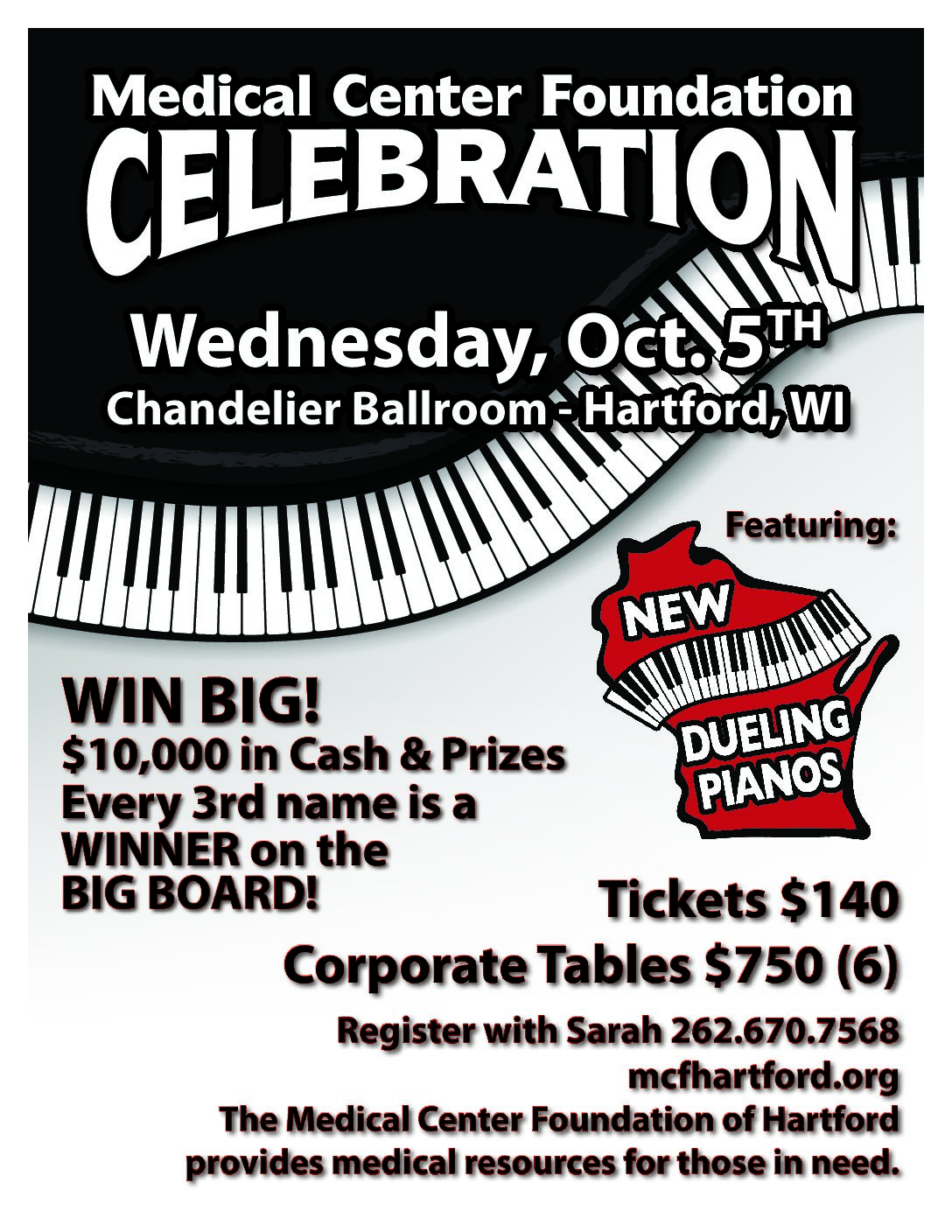 edical Center Foundation Celebration
When: October 5,  2022
Where: Chandelier Ballroom 150 Jefferson Ave Hartford, WI
EVENT DETAILS: Join the most anticipated evening of the year, Medical Center Foundation Celebration 2022 at the Chandelier Ballroom, located at 150 Jefferson Ave Hartford, WI. You won't want to miss this, we have the NEW Dueling Pianos ready to duel.
LIMITED SEATING Registration ends Sept. 30th.
The Medical Center Foundation of Hartford and the Chandelier Ballroom staff will do a tremendous job to make this a fun and memorable night.
Open bar is from 5 – 7 p.m., including many delicious appetizers, followed by your choice of Prime Rib or Salmon.
Don't miss our drawing of names for the $10,000 in cash prizes, door prizes, Chinese Raffle, cash bag raffle, meat raffle, grocery raffle, auction items, and more.
Proceeds benefit local needs: Adult Day Care, Medical Transportation, Lifelines, a Fitness Program and SANE (Sexual Assault Nurse Examiner) Program.
Please register by September 30. LIMITED SEATING!
COST: $140.00 per person and $750 for a Corporate Table of (6).
CONTACT: 262-670-7568 with questions.
Tree of Life Celebration
When: December 7th,  2022 at 5:00 PM
Where: Location TBD
The Tree of Life Celebration is a great opportunity to share in the holiday experience with other community members. Join us on December 1st at 5 pm. Celebrate community with a celebration filled with all kinds of music and special guests who will share the gift of love and life. You may donate toward the cost of a Personal Emergency Lifeline. Every gift given helps someone. Thank you.
No registration is necessary, donations are welcome.  Come celebrate with us, we would love to have you there.